First off …whats so special with Realtek NIC card?
The Realtek NIC card is commonly seen in consumer motherboard.
If you intend to run a whitebox ESXi for homelab use, tough luck as starting ESXi 5.5 VMWare has removed support to it.
But do not fret. There are numerous ways to make it run. A simple google search would yield numerous results pointing to guides on how to side slip the ESXi 5.1 drivers to a ESXi 5.5 ISO. After doing so, just use the custom ESXi 5.5 ISO to install into your white box.
But how about if you already installed it? 🙁
And that is the target of this post. Like me, I just install blindly ESXi 5.5 to a USB stick (I use workstation. guide to follow) and after inserting to my white box – lo and behold. No Nics detected.
What now?
Fortunately, the VIB to make Realtek RTL811E work is already available. All that remains is to place it in the current ESXi 5.5 installation and install normally like any other VIB.
Steps:
1. Download the  VMware_bootbank_net-r8168_8.013.00-3vmw.510.0.0.799733.vib
2. Issue the command :
esxcli software vib install -v <location of the VIB>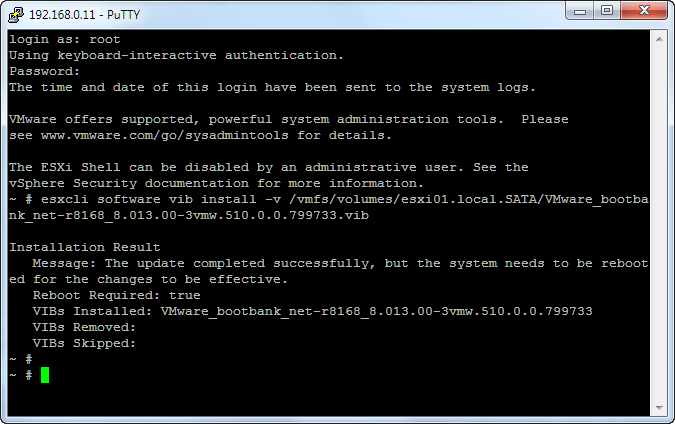 3. Reboot and Enjoy 🙂