Weekend upgrade in preparation for vRealize Automation 7.
– Updated ESXi to latest
– Updated vCenter to latest U1 version
– Repointed to an External PSC
This link details everything that you need to repoint/ leverage the new U1 feature of PSC repointing:
https://blogs.vmware.com/vsphere/2015/10/reconfiguring-and-repointing-deployment-models-in-vcenter-server-6-0-update-1.html

UPDATE:
Of course, no update would be complete without some few hiccups. Here's what i experience after updating to U1 and repointing to an external PSC: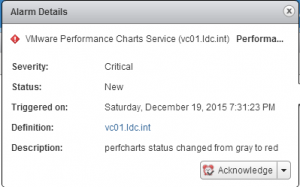 Good thing there's already a KB for this and it just a matter of following the instructions.
KB for reference: http://kb.vmware.com/kb/2131327
Enjoy!